Next level cocktails with vintage glassware.
Do you need to have fancy old glasses at home?
Well no, not really… But they are damn cool, so, YOU PROBABLY SHOULD!
If you have been making cocktails at home for sometime (or even if you are just getting in to it), pouring your drinks into the same glasses over and over again gets pretty boring.
Just like it's fun to keep mixing things up with the drinks that you make, it's nice to have a little change of pace when it comes to your glassware. Choosing a glass based on the drink you are making, who you are making it for, or the occasion that you are celebrating is an enjoyable little part of making cocktails.
Presentation and experience are a part of any drink.
If you have a well made meal at a restaurant and the service is forgettable you remember it as a nice night, but if you have a well made meal with a well set table and great service it becomes more of an experience.
And on a much smaller scale I think that the same goes for drinking cocktails whether that be in a bar or in you dining room at home.
A good Manhattan is a good Manhattan no matter what glass you put it in, but it becomes a more memorable experience when you drink it from a nice piece of antique glass.
Plus, I just think it's cool that you can sip a cocktail from the same glass that somebody did almost a century ago… kind of neat.
What types of old glasses are there?
Just like the modern drinkware available, most of the antique and vintage options can be broken down into three basic categories. To cover a majority of the different serving styles each home bar should probably have at least 2 of each of the following:
Rocks
Highball
Coupe/Cocktail/Martini
Wine
That being said, you can definitely get away with only having coupes and rocks glasses and just serve any highball style cocktails in a rocks glass. Not a big deal.
And like everything in the world of cocktails, select your glassware based on the drinks you like!
Only make daiquiris at home? Well then just buy yourself a nice set of coupes and that's that. Then slowly grow your glass collection as you try new drinks and expand your inventory of booze.
There are also great vintage tiki mugs, snifters, cordial glasses and all kinds of other cool stuff that you can eventually fill your home bar with.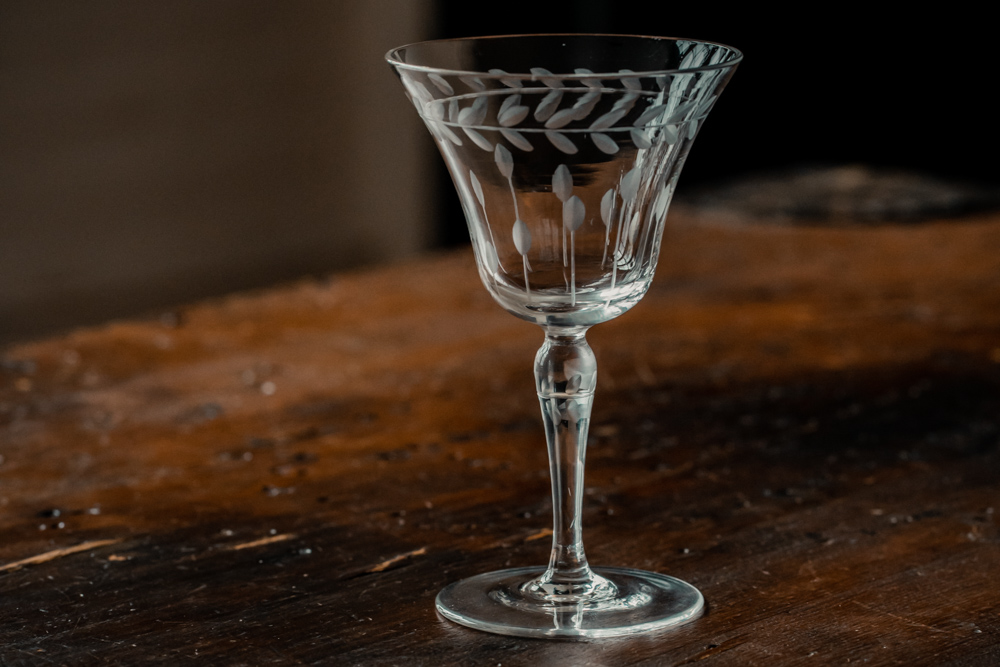 Placing and value on old glassware
So what exactly are old glasses worth paying for? It's often hard to say.
When you find fairly common old glasses like the Boopie series from Anchor Hocking, or Rock Sharpe from Libbey, it isn't too hard to see what they sell for around the internet.
It's the really unique vintage finds that can be the hardest to price.
So, you just have to do your best guesswork based on what you know and what you can find that is similar. But there are a few things that you can look for:
1. The quality of the glass: Is it made of glass crystal? Does the etching look to be really high quality? Can you tell if it was hand painted? These are all things to look for that can start to give you and idea of what a glass is worth. Glassware that is brilliantly clear and rings brightly when you flick it is likely crystal which is higher quality glass.
Really fine needle etched patterns on the "bowl" of the glass are highly sought after and more valuable, and signs that it could have been hand made can add value as well.
2. The maker: Certain glass makers will carry more value just like popular brands do today.
You can often determine the maker buy looking for images on google or pinterest for vintage glassware that looks similar by using different descriptors when you search. Obviously this is not a really professional way to do it but if the glass is fairly common you can find it more often than you would think.
Another clue for the maker is their stamp or sticker that is sometimes visible, usually on the bottom of the base.
You can then look through web pages or antique glass magazines to find the name of the maker and determine the price from there. Keep in mind though, that quite often there are no markings on the glasses you will find, and sometimes if there is a marking you can't find the company anyway.
3. The Era: Usually the older the glass, the more valuable it is.
Old glasses from the 20's and 30's tend to be worth a pretty penny. Finely etched crystal Tiffen glasses are some of the most beautiful and unique and tend to sell anywhere from 25-45 dollars a glass.
Depression style glasses also tend to be quite valuable. Ironically, depression glass has now become collectible despite being extremely cheap or even given away for free during the Great Depression. It isn't even high quality glass! It just goes to show you that valuing something really just comes down to whether or not people think it's cool.
4. Uniqueness: The less common a piece is, the more likely it's worth a little money.
This doesn't just mean that you've never seen something before, or it looks really strange.
But when you find cool old colored glasses with a unique etching pattern on them, those are typically more valuable. The same goes for different patterns or different rims.
It there are two glasses from similar makers, era and style, the one with the cool patterned gold rim is usually more valuable than the plain one.
But what it all comes down to is will somebody actually pay that much for it?
Just because a glass is valued at a certain price certainly does not mean it is going to sell at that same price. Even if a professional appraiser says it's worth 3,000 dollars it doesn't matter if nobody will ever pay that.
So in the end, you have to make a judgement call, regardless of the facts that you do, or don't, know.
SHARE THIS GLASSWARE POST!
[social_warfare buttons="Facebook, Pinterest, Twitter, Email"]
Where can you find old cocktail glasses?
Well, just about everywhere you can find any other type of antiques.
Thrift stores, garage sales, auctions, Ebay, old people's attics, or of course the glassware section of Drinking Hobby (shameless plug), are all great places to hunt for old glassware.
Each are good for their own reasons.
Thrift Stores:
Thrift stores are great because they are usually really cheap and they often have a pretty big selection. Amvets, Salvation Army, Savers etc.. all sell old glassware anywhere from 50 cents to 3 dollars a piece, which is a sweet deal but not without a few issues.
Most of the glassware in large thrift stores is pretty standard stuff.
That's great if you're starting out your collection seeing as you can buy glassware for a whole dinner party for under 5 bucks, but they don't always have the most unique options.
However, if you are looking at thrift stores go to the ones in the wealthiest neighborhoods. Sometimes you can find absolute gems that are worth 40x their 49 cent price tag because somebody in the family decided to donate all of aunt Alice's vintage glassware without seeing what they are worth.
Also, always check for little chips and cracks before you buy them.
All of the glasses are usually just sitting out on one big shelf and have been stacked on each other, moved in a shopping cart and carelessly handled. Run your finger around the top of the rim to feel for little chips or dings. Any other imperfections you can look past but drinking out of a vintage glass is not worth having a cut lip.
Thrift stores are also the best way to create an eclectic mixed collection since you can usually by single glasses whereas in auctions or other sales you may need to buy the whole set.
Garage and Estate Sales:
If you have the time this is where the really good ones are hiding.
Garage sales are the holy grail of buying anything vintage since people are usually looking to dump stuff off and make a little cash on things they are about to take to Salvation Army anyway.
It is basically the same as buying glassware at a thrift store, but it hasn't yet been picked over or mishandled!
And just like in thrift stores most of the time they are really under priced. So yeah, these sales can be fun and are a good place to find old glassware if you go to the right sales.
But it takes up lots of time.
We don't all have 4 hours on a Saturday to pick through our neighbor's junk, which is why the next option exists… There is also the possibility that you hunt for hours and don't find a single thing you like.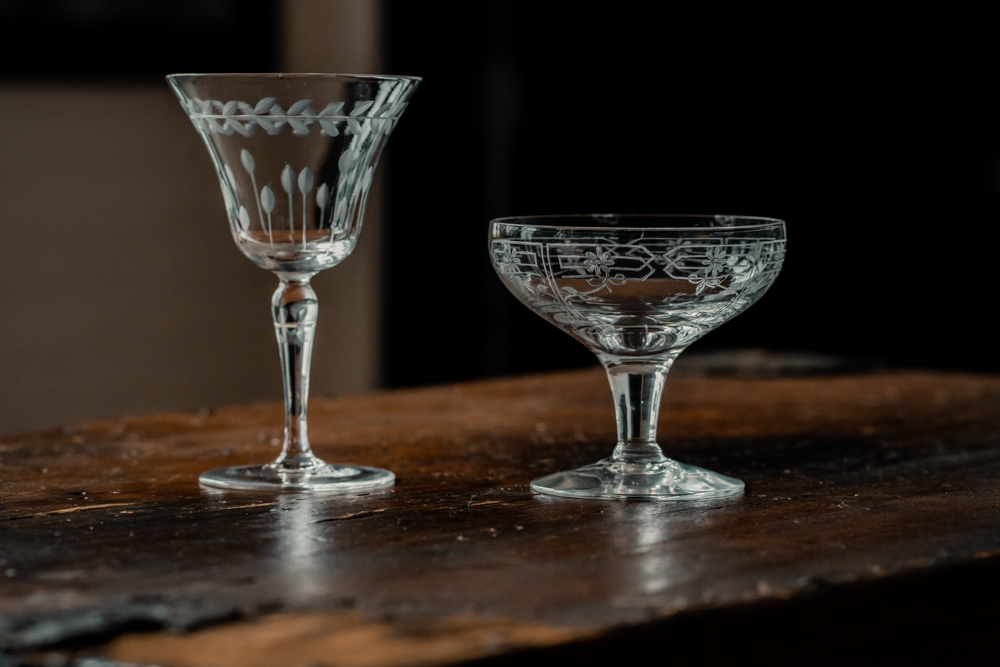 Internet Channels:
Facebook marketplace, Craigslist, Ebay and Etsy all have their fair share of vintage bar tools and glassware.
Especially Ebay and Etsy.
But with these channels you start to pay for what you get.
There are still some really great finds that pop up on craigslist or Facebook, but those seem few and far between (at least in Buffalo).
My theory is this: People would rather just donate their vintage glasses than sell them for cheap and deal with the in person transaction (which is why I go to thrift stores). And on the other end, if somebody knows they are selling valuable glasses they would rather do so on Ebay where there is more traffic, leaving Facebook and Craigslist mostly with cheap middle of the road options.
If you are okay with paying more but want really nice glassware head to Ebay and Etsy.
And if you are pay close attention, there will be glassware on auction that nobody else will bid on leaving you to swoop in and get them for basically just the cost of shipping.
Drinking Hobby and Other Online Stores:
The easiest way to be sure you get something you like is to buy vintage glassware from an online store.
That way you can see what it looks like beforehand, not waste any of your time hunting or picking through shelves, and just have them shipped right to you.
Basically you are paying somebody like me to do all the ground work and send you the ones you like. If that sounds like your kind of thing check out the new glassware store that I have put up on this site!
Drinking Hobby Glassware Store
Yes, you will pay more than if you found at your local Amvets, and there is the cost of shipping, but if you don't want to spend any time hunting glasses (or can't in your area) it might be worth it for you!
You can also find nice vintage glassware on antique replacement sites, but for the most part the seem to be more of the common/standard options and they are usually priced pretty high.
But take a look around the internet, there is some great vintage glassware out there!
Caring for your glassware
It's simple. Always and hand wash them.
One thing slips in your dishwasher and now you have a chip in a glass that you may never be able to replace.
It takes 2 minutes so just wash them yourself.
I hope that you have fun hunting for and expanding your glassware collection!
Always feel free to reach out to me.
Cheers!